Wellness Hotel in Austria with a Sky Spa – "Closer to Heaven"
Enjoy a spa vacation above the roofs of Pertisau
As of July 2016, a heightened spa experience awaits you in Pertisau in Tyrol: Our spa area has doubled in size to almost 2.800m².
The new spa area in our hotel in Austria is open for all guests 16 years and older. Our younger guests are welcome to use the indoor and outdoor pool. And during vacation times, our sauna world is open for children twice a week.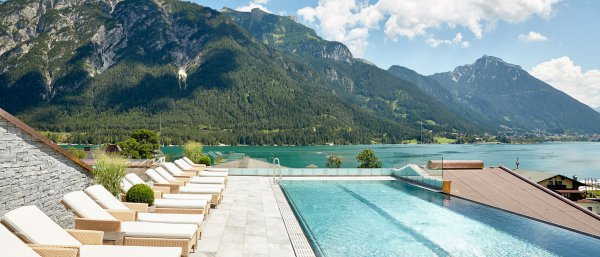 The Karwendel Sky-Spa brings you a bit closer to heaven. The Sky-Pool combines swimming pleasure with views of the Tyrolean Mountain Sky and the majestic natural setting of the Karwendel Mountains.
In the Mountain Hot Whirlpool you can relax with a fascinating view of the Achensee in the gently bubbling water. And our new sauna and themed infusions make your spa vacation in Tyrol even more diverse …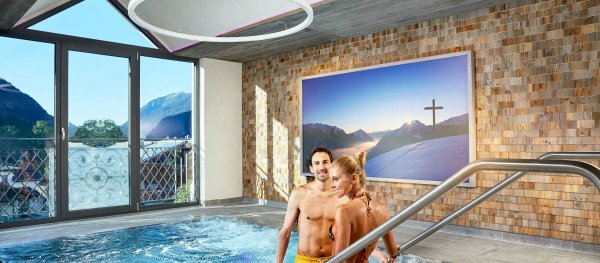 The highlights in the new Sky Spa
Sky-Pool with a 100 m² water area – swimming above the roofs of Pertisau with a view of the Achensee 
Sky-Event-Sauna with professional themed infusions by our sauna infusion master
5x weekly with 2 themed infusions per day
Organic sauna with a gentle warmth
Swiss pine infrared thermal cabin
Fireplace seating for a cosy chat
2 new themed relaxation rooms above the roofs of Pertisau
Chill-Out reading lounge with integrated library
Sundeck for relaxing outdoors in our Sky-Spa Mountain Hot Whirlpool with a wonderful view
Rocky grotto & VIP showers
Tea & Vitamin bar for a healthy snack in the wellness area
Even more wellness & spa in our wellness hotel in Austria