For a carefree timeout
At the Hotel Karwendel we provide an all-round service to make your stay safe and relaxing. We adhere to the current hygiene regulations and do our best to ensure that you can forget the daily grind and spend a relaxing time with us.
In order to arrive and leave without any worries, you can have a corona test performed by the local doctor, a 5-minute walk from the hotel (extra charge). We will be happy to arrange an appointment for you.

Hygiene and preventive measures Wellness area Cuisine Cancellation conditions
Hygiene & preventive measures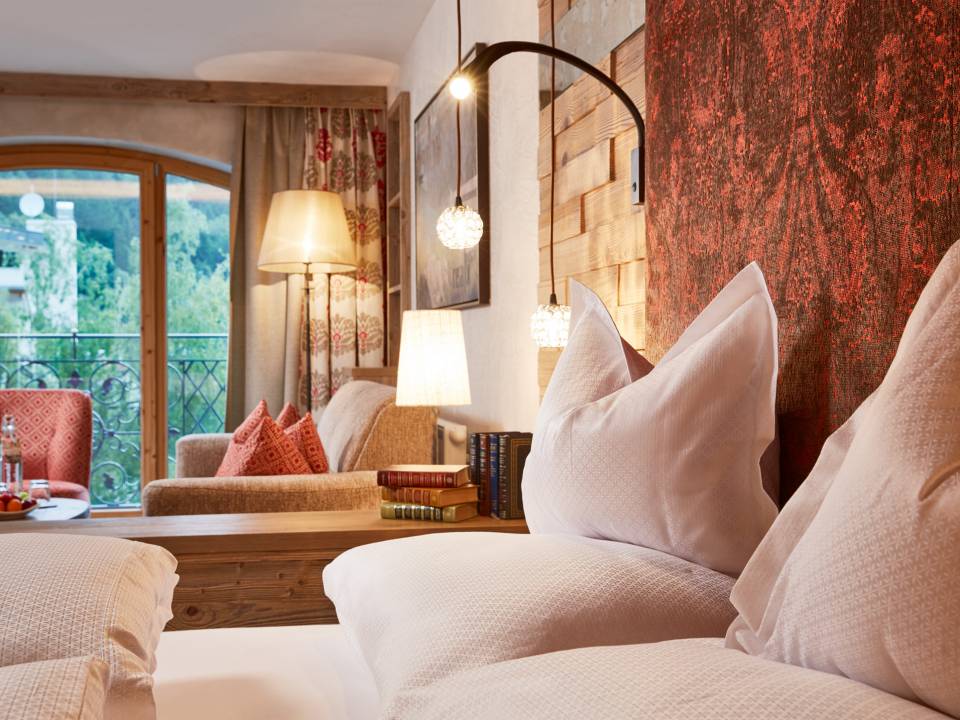 No handshakes
1 meter distance
Our staff wear a face visor
Disinfection stations in public areas (virucidal)
Regular ventilation of the areas
Please wear a mask when entering the hotel and in all public areas. You are welcome to remove your mask at the table. 
Regular testing of all employees for COVID 19
Constant cleaning of door handles, touch points in the lifts, taps, handrails, ATMs. Daily cleaning of floors and surfaces
Daily cleaning and disinfection of your rooms with our special cleaning system from hollu, each room has its own cleaning system
Please wash your hands several times a day
Please always use our disinfectant before entering the restaurant, Vitalgarten, spa, or gym
Please disinfect your Smartphone daily
Please use the small saunas alone. We have extra long opening hours daily from 11.00 to 19.00
Disinfect your area before and after each sauna session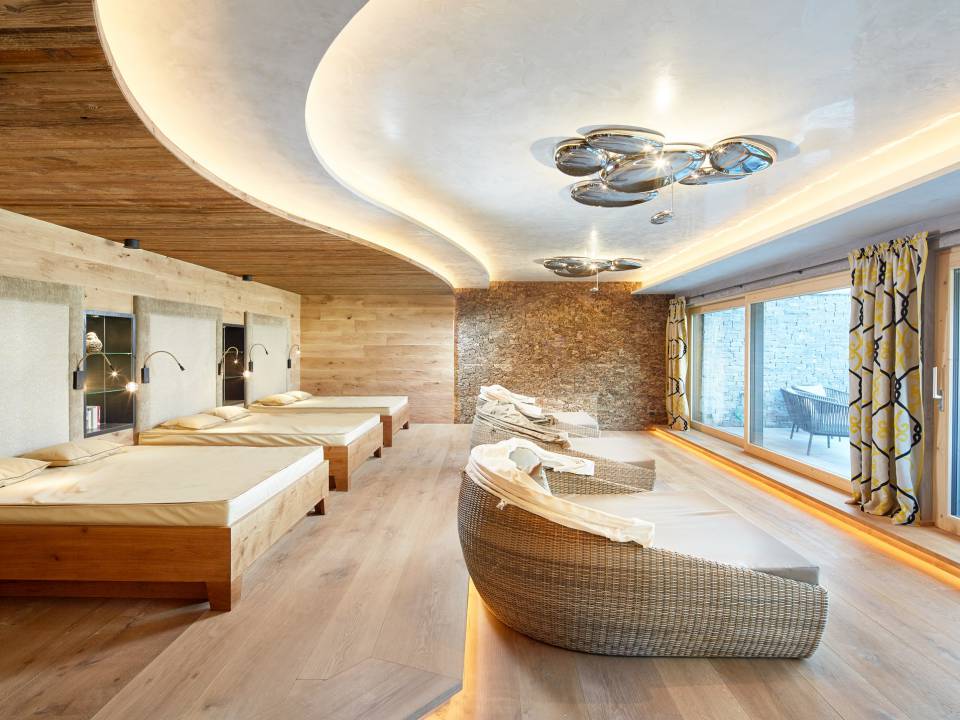 Despite the so-called "new" normality, we remain your personal wellness home just as you know it: personal - individual - warm
In the wellness areas
All pool areas are open as usual
Relaxation rooms with sufficient relaxation possibilities and sufficient distance
Sauna and steam baths with limited number of people without infusions (but daily from 11:00 am)
Fitness room in operation
Treatments and massages take place as usual
Guided sports and leisure program with a limited number of participants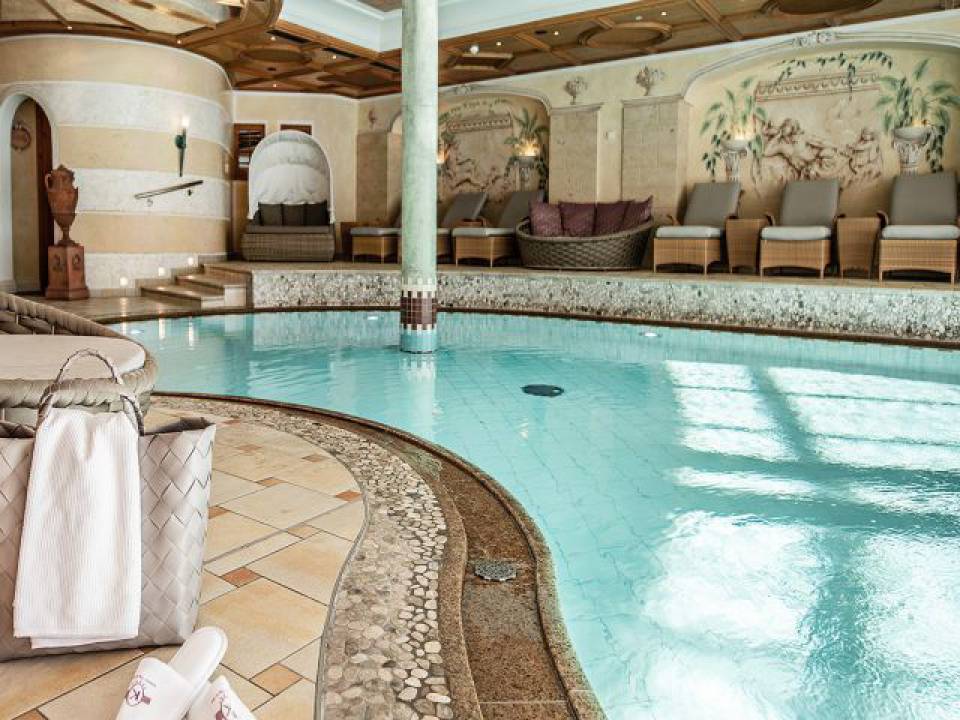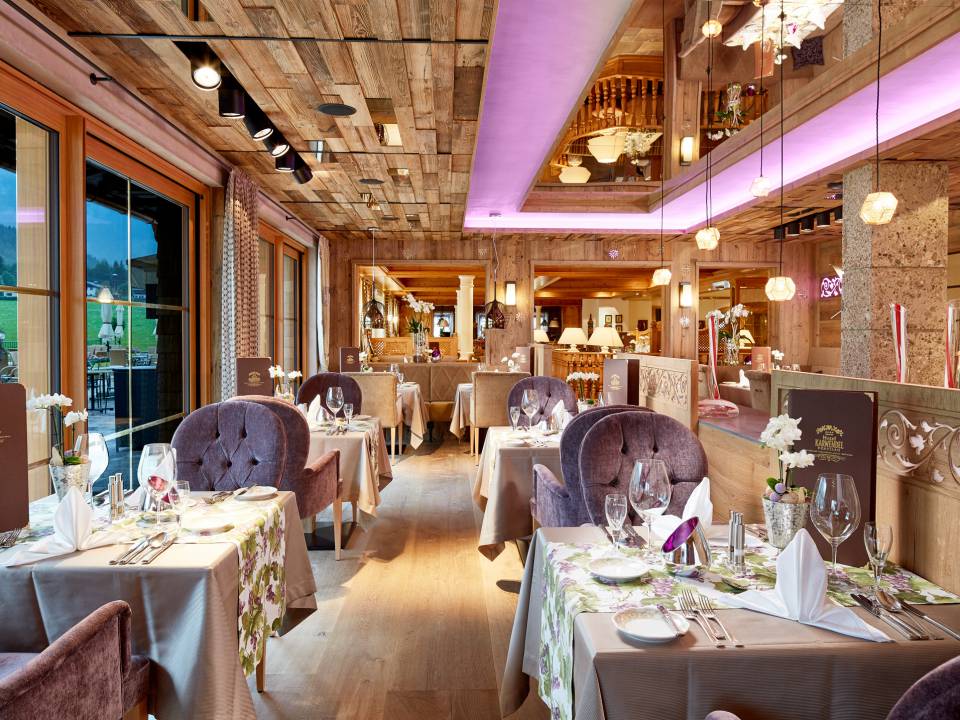 Karwendel Cuisine
Breakfast as usual in buffet form. Please don't forget your mask!
Afternoon snack as usual from 1:30 to 4:00pm
Dinner 5-course menu of choice served for you
7 dining rooms to choose from with sufficient distance (max. 10 persons per table)
Wilderer Gourmet dining room: Our two toque restaurant is open for you from Wednesday to Saturday from 6:30pm (for a charge)
We will be happy to serve you cocktails & drinks at the hotel bar
Safe and carefree
Book your holiday in the Hotel Karwendel
If measures are maintained due to Corona or possible restrictions at our premises which are considered unreasonable for you, reservations can be cancelled or postponed FREE of charge until 23.12.2020 or from 06.01.2021 until 05.04.2021 until 7 days before arrival.
For bookings made between 23.12. - 06.01.2021, you can cancel due to border closings which do not allow your travel, your own or your family's positive corona case (with proof), or potential quarantine after returning to your home country (Tyrol is officially classified as a risk area) you can cancel free of charge until the day of arrival. Should these reasons not apply, the officially valid Austrian hotel regulations apply.
✓ Pre-payments which have already been made for booked stays can be converted into a cash value voucher at any time. The voucher does not expire and can be redeemed for an unlimited time at your alternative desired date.