By clicking here, you will allow external content to be loaded from YouTube. This will enable the eventual transmission of personally identifiable information to third parties. More information:
https://www.google.com/intl/en/privacy.html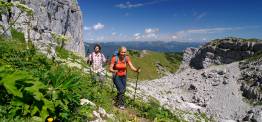 Lake Achensee in Tyrol
A lake that enchants its visitors
It is the largest lake in Tyrol (720 hectares, 9 km long), weaving elegantly through the Karwendel and Rofan mountains. Its water is so clean that you can drink it without hesitation. It is so clear that you can see the lake bottom many meters below the surface. On some days it is an emerald green, on others it is turquoise. The colour changed according to the incidence of light - a magnificent play of nature.
Summer Activities
Let the beauty of this lake inspire you during a stroll, a hike or a cycling tour along its banks. Or experience its invigorating freshness by taking a dip in the water. You can also explore the lake by boat, on a sightseeing tour with Lake Achensee fleet. Or you can borrow a pedal boat or rowing boat and be your own captain!
"Real" water sports are also possible on the Achensee. Sailing, windsurfing, kite surfing, the new sport of stand up paddle boarding and diving are all available. There are a number of water sport schools and rental shops around Lake Achensee, including one in Pertisau.
At Das Karwendel - your wellness home at Lake Achensee - you are just a few metres away from Lake Achensee ... and a memorable holiday on the banks of Lake Achensee is just a few clicks away ...
Summer Offers
Active offers and more for your summer holiday